British Dressage Rider – Jamie Broom
Jamie Broom is a British Dressage Rider and current National Medium Champion in the sport of Dressage. He runs Lakeside Equestrian Centre, a livery and training centre near Windsor with his wife, Georgi and his family.
At the age of 18, Jamie joined Her Majesty's Forces. In his interview, Jamie recalls seeing a picture of the Household Cavalry (Mounted Regiment) behind the interviewer and immediately said, 'I want to do that!'
During Jamie's time in the Army, his talent with horses was spotted, and he was put forward for the instructor's course earlier than normal, qualifying as a BHSAI. Travelling around the world performing the Musical Ride was a special highlight for him and HOYS at Wembley stadium and Olympia International Horse Show hold fond memories, as do performances in Holland and Switzerland.
His riding career included Eventing and Show Jumping at Windsor (Services Jumping) and he qualified and rode at Olympia on his horse, Henry (One For You) several times. His daughter, Cerys (16), has now taken over the ride and hopes to follow her father's earlier footsteps in Show Jumping.
In autumn of 2014, Jamie and Georgi acquired a horse named Tigger (Furst Impression). Their original goal was simply to take their time with him so that he would progress onto being a happy and rideable horse that was secure in his forever home. Over time, Tigger formed a partnership with Jamie that is now apparent to anyone who watches him. The more he worked and learnt, the happier he became and the more his cheeky character showed. Show Jumping, despite being Jamie's initial passion was not to be – as Tigger's jump was so powerful it was difficult to sit on, literally! After a particularly spectacular and unintended dismount, it was decided that jumping was not for him! Unbeknownst to all at that time, Tigger and Jamie's dressage journey had inadvertently begun.
---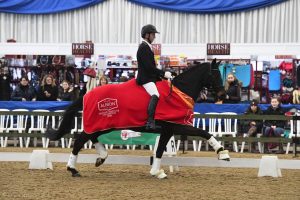 Photo credit:  (c) Kevin Sparrow
---
Whilst Jamie was still in the Household Cavalry in 2013, Charlotte Dujardin was invited to ride an army horse in Hyde Park for a media opportunity. Jamie, as Equitation Warrant Officer, and having qualified on Henry for Olympia that year, was asked to accompany Charlotte on her hack. Jamie decided to take Tigger instead of his usual horse, for his first hack out ever, and he certainly lived up to his name as he made a huge impression on Charlotte.
In 2014, as Jamie completed his twenty-two years in service, he left the Armed Forces and took over the running of Lakeside Equestrian Centre with his wife, Georgi. In October 2014, Tigger made his debut at Merrist Wood, coming 4th in the Novice Music Freestyle, despite being very green to the level and making some mistakes in his test. Training at home with Sara-Jane Lanning, Jamie and Tigger went from strength to strength, qualifying and winning at the Winter Regionals at Novice Level and then qualifying for the Nationals. Coming fourth at the Nationals was beyond anything Jamie and Georgi could have hoped for and it inspired them to continue with their dressage ambitions.
In June 2015, following the move to Lakeside Equestrian and after a continued friendship with Charlotte, Jamie and Georgi hosted a clinic with her at their yard.
Jamie's dressage career continued to go from strength to strength and in just over 18 months, he won 22 of 29 dressage tests, including the Championships, moving from Novice to now Advanced Medium in that timescale, therefore achieving two Regional Titles, one National Title and one Nationals placing – 4th.
Jamie describes Tigger as a "hot horse with a great sense of humour. His intelligence is such that he learns very quickly. He's a horse that you have ride skillfully and with experience, as to manage a delicate balance of negotiating and never telling. Jamie and Georgi's other horses include Ziva (Furst Insperation) and Rockstar (Furst In Line), all out of the same lines of Furst Heinrich, Tigger's sire.
Ziva, 6, has just starting competing and stands at 17'2hh.
Rockstar, 7, is a new arrival and an exciting prospect as Jamie starts his training and gets to know him.
As well as training, riding and competing their own horses, Jamie and Georgi run a very successful livery yard, teaching and riding for other horse owners, hosting competitions and regularly running clinics covering all the equestrian disciplines with a variety of trainers, including Charlotte Dujardin.
Jamie says: "Coming from a non-horsey childhood, the dream of acquiring Lakeside, and finding a horse like Tigger who gives me absolutely everything, makes all the hard work and sacrifices we make worthwhile. Each day we progress, he just keeps giving me more and going beyond our expectations. It's so great to turn up at shows now where some recognise him as 'the little black horse'.
Jamie would love to realise a further goal and be selected for the British team and it's a dream he is certainly focused on achieving.     
Photo Credit (c) Su Burrows (Desk Jockeys)